So, this is my new build thread. The e30 has been sold. I grew tired of constantly working on it and never being able to enjoy it and decided it was just time to move on. But what to move on to?
Well, after spending a lot of time on Autotrader, auto tempest, and cars.com and finding a few WRX hatchbacks but always finding them sold within a day or two of finding them. Ya know, the one they made from 2011 to 2014 with the aggressive bulging fenders? Which as it turns out is everyone else favorite year too. And then I considered the Focus ST and found the same problem. It was looking kind of grim.
But then I looked in my garage and noticed I had a nice car already and the only reason I had been ignoring its potential is that the automotive enthusiast community has made most of us hate anything with an automatic when it comes to having a blast while hitting some canyon roads.
Now I've driven this car pretty hard on the backroads of SoCal and with the automatic plopped over into sport mode and using the fancy paddle shifters I still have a ton of fun, despite what the world might lead you to believe. So I've decided to venture into building my 2011 328i (with the sport package) into the perfect canyon car. Even though people will say its too big or it's useless because its an automatic but I choose to deny their reality and substitute my own.
Becuase it's about the joy of driving and that doesn't necessarily mean it has to be a manual transmission.
Some updates will be coming soon. I just placed an order for some Bilstein B8 Sport shocks and struts and will be ditching the run-flats on the rear of the car in hopes of gaining some grip in the corners. I expect this to make for a pretty big change in the driving dynamics of the car. Especially considering the car still has stock shocks and struts with 116k miles on it. At this point, I won't be investing any sort of lowering spring as the car came from the factory with the M Sport suspension which includes a quality BMW performance spring that offers a lower ride height than the standard car.
The next upgrade will likely be a more aggressive set of brake pads and we'll go from there. I'm a believer in slowly upgrading cars and making subtle changes to bring a proper balance to the chassis, rather than throwing a mass of parts at the car all at once.
There will be maintenance items done along the way, including a brake fluid flush with a more performance-oriented fluid and some upgraded brake pads and rotors. And of course, a transmission fluid change as well to keep the automatic in working order.
The car in question, resting happily at a turnout on Angeles Crest highway.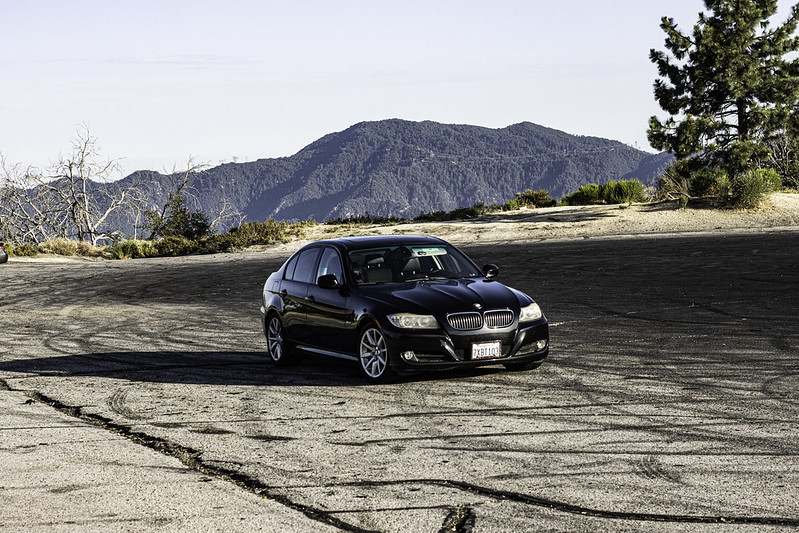 IMG_0657 by Bob Terwiliger, on Flickr
And yes, every one of those tire marks is from me