That looks like a plan. Still debating pressurized water, I take it?
Well the water would not be pressurized, I'd open an air valve to push it out instead of a water valve to let it out, if that makes sense, but I'm not sure how I want to do it and what pieces etc. Trying to decide if I want to at all.
Settled on using an out of date fire extinguisher for the air tank. Bought a bung and welded it in just now.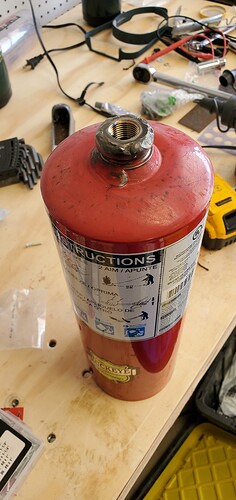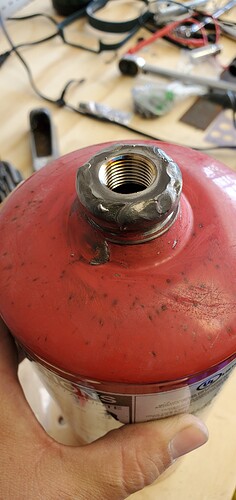 Possibly the nicest weld possible given my crappy little welder running flex core. I had a fitting screwed into the threads while welding to protect them from slag.
No grinding in this picture, literally just a quick hit on the wire wheel. I see one tiny pinhole but it doesn't look like it will go all the way through so I'm just going to leave it.
It's getting mounted under the rig, still going to take it to work and sand blast it, and then I have to decide what color to paint it. I have some gold metallic spray paint I can't see myself using for anything, so why not?