Awww man, that just sucks. There is no eloquent way to say anything about it.
07.31.23 — Heater Core & Interior Refurb Begins
As much as I'm not looking forward to replacing the heater core, it's just what I needed. Parts have been piling up for years while I waited for sufficient impetus to remodel the garage and strip the interior.
Fiber optic, starlight headliner, LED reading lights, 60lbs of sound insulation, and new 6x9s are all worth doing, but the sheer amount of shit that has to come out of the truck to do them, ya know? I considered it a Wyld Stallyns Dilemma. Just as Bill and Ted could not make a triumphant video without Eddie Van Halen on guitar—but could not get Eddie Van Halen on guitar without a triumphant video, I couldn't spend a month taking Fezzik apart without remodeling the garage—but I couldn't remodel the garage until I needed to spend a month in the garage taking Fezzik apart.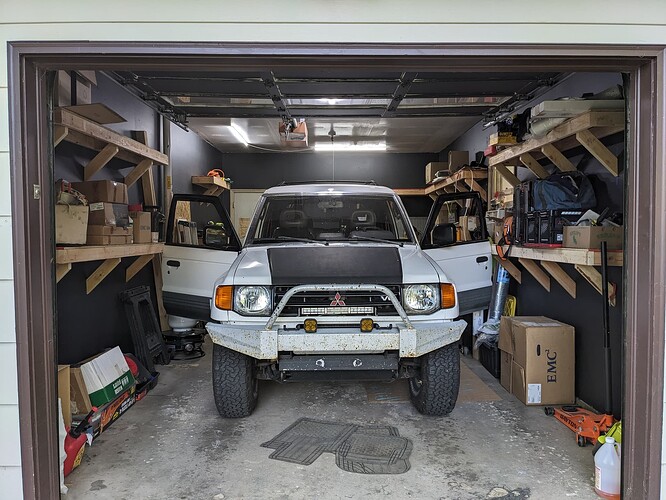 Fezzik is in the building.
(And the wife and daughter have left the state—for an entire week.)
My Quest
Monday: begin stripping the interior
Tuesday: finish stripping the interior, pressure wash the carpet
Wednesday: [ break ]
Thursday: begin removing the dashboard
Friday: bypass and remove heater core
Rewarding myself: If I accomplish all of the above and have time, I will shift gears to install a set of new JL 6x9s my mother-in-law ordered by mistake and just gave to me instead of returning.
Note: I plan on keeping Fezzik drivable through all of this just in case. I know there will be times when this isn't possible; when the windshield or brake master cylinder is out, for example, but these should be limited. While I'm planning on Fezzik being down for an entire month, I don't want him immobile.
The Backlog
[ while the heater core is being repaired ]
– repair brakes: check lines for leaks, replace master cylinder, fluid, bleed
– clean the headliner
install repaired heater core
r&r moon roof assembly
refurb dashboard: new center vents, clean ducts, install power ports, switch panel
install Noico in dash area as needed
install new aux circuits: fwd lighting, emergency flashers, house circuit
STARLIGHT FAMILY WEEK
– install starlight fiber optics into headliner
– install starlight control unit in Fezzik
– install Noico in headliner
– install headliner and test
reinstall dashboard
install Noico everywhere else
reinstall carpet
reinstall interior
install emergency flashers
install seats
– refurb seats?
repaint front bumper
reinstall Diode Dynamics SS3 fogs
reinstall & connect the big Lightforce "oscars"
install new ADD flood/ditch lights
install new ADD reverse lights
replace rear suspension bushings
install panhard bar
That's clearly more than I can get done in a single month, but I know I can make a serious progress.
Journey to the Heater Core Ep. 2
While I got Fezzik into the garage and made some serious progress, I am currently behind schedule and looking at closer to end of September before I'm done. Turns out I overdid it the week the girls were out of town and it took me a couple weeks to physically recover.
The following pics were taken a couple days after the last one, above. Since then, I've removed the airbags.
That's it. And Fezzik isn't currently drivable while the dash is broken down and the steering wheel is pulled.
Interior Removal
Carpet Removal
I pulled the carpet and drug it out back for pressure washing. If it's not obvious, driver side is top left. I'm seeing a slight green tint to the carpet on the passenger footwell corner. (The ECU sits less than a foot above this soggy mess, by the way.)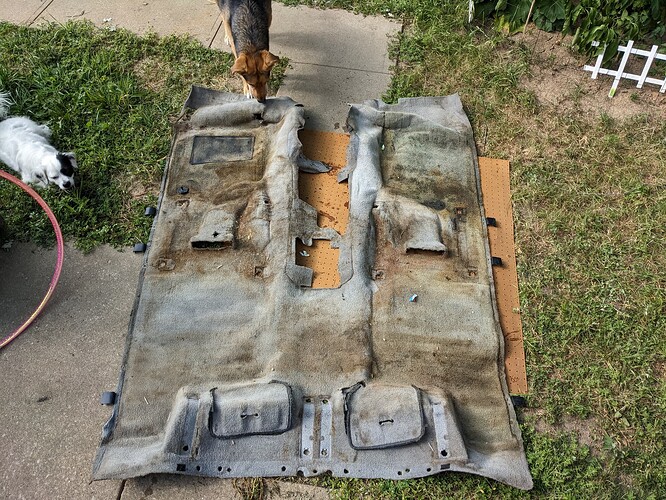 I didn't like the thought of rinsing antifreeze down the street into the storm drains, but as you can see, Arlo and Louise were immediately interested in the carpet, so I drug it back past Fez out to the driveway. Notice how the carpet was so wet it left streaks on the floor when I pulled it back through the garage.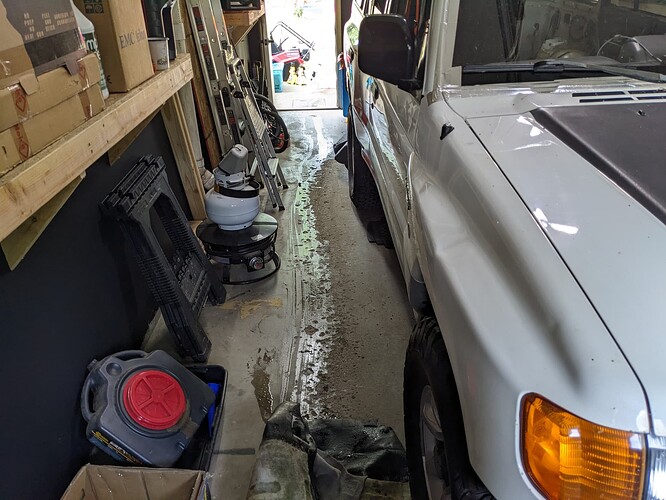 Carpet Cleaning
Once I had everything laid out in the driveway, I grabbed the Simple Green, pressure washer, and a drill-mounted scrub brush, and got to work cleaning the carpet.
First, I used the pressure washer to aggressively rinse the carpet. Next, I attached my foam gun attachment and saturated the carpet. I let it soak for a few minutes, then went over everything with the power brush. After that, I gave it another high pressure rinse, before another Simple Green soak, followed by another high pressure rinse, and then a final, low pressure flush with the regular hose to clean things out.
Carpet Cleaning Results
Once I was done, I hung the carpets over the trash carts to drip dry. They could have come out better, I'm sure, but I am pleased with these results. (I've also got four bottles of dark gray Rit dye and a mini deck sprayer to apply the dye once the weather cooperates.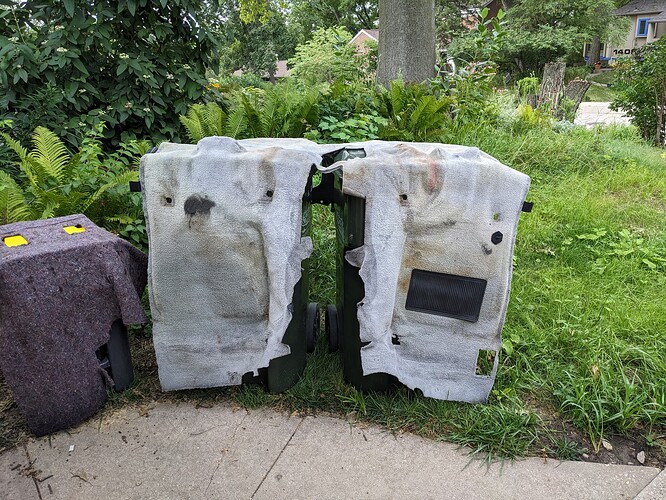 (Did you notice the red streak in the above picture? It was hidden under so much grime. Kinda panicked for a couple minutes when I was pressure washing and the water started running red. Turns out it was probably just a red ink pen that fell between the seats and cooked out in the heat.)
In other news, with the carpets hanging on the ADD bull bar, Fez reminds me of the Mutt Cutts van.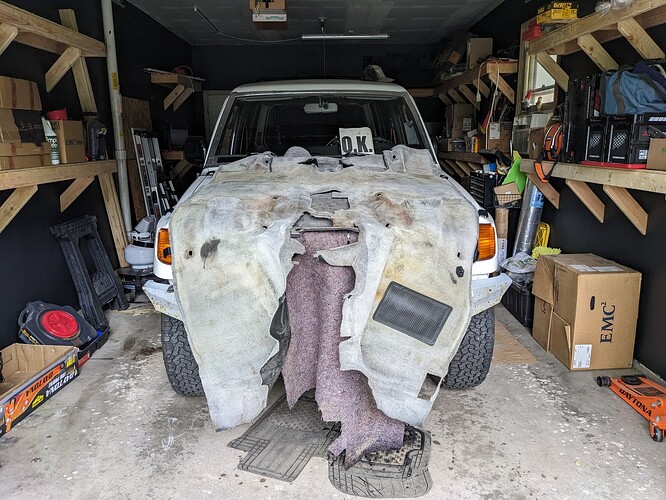 Final Steps to the Heater Core
The airbags, combined with my aches and pains, set me back a bit. I suspect they changed the SRS connectors when they performed the Takata recall. I had to do some research to be sure before I started prying on wires connected to literal explosive devices.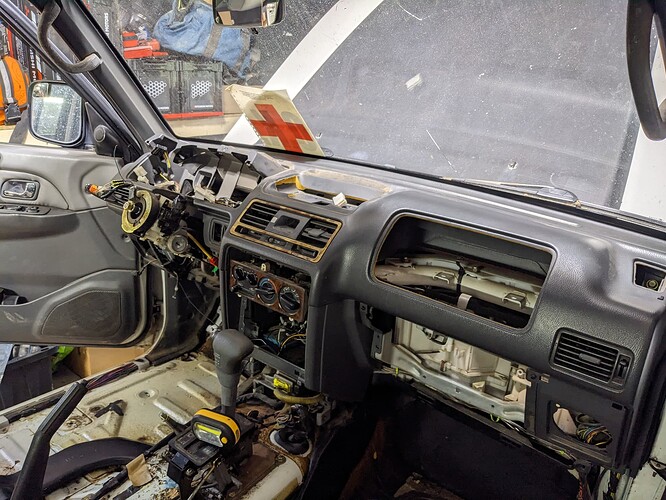 Got them out, though, and have stuffed the HVAC controls back into the dash cavity far enough to be able to access the control cabling. That's my next challenge. After that, I suspect it's maybe a dozen bolts to get the dash out and begin the final push to the heater core.
In Other News
Replacement heater core arrived from China. Nobody locally works on heater cores, which means I'm going to have to pressure test this sucker myself before it goes in. Or who knows, maybe I ship the original back to Phoenix for professional repair. Not sure yet. We'll see when the old core is out.
(I also got replacement center vents, since mine are borked and you have to remove the HVAC controls to get them out. Another while you're in there affair.)
Time is already running out for this project, though. I'm out of town this Saturday, think we're doing something the following weekend, then it's like two weeks until we fly to SLC for Mabon, and then it's October.
Journey to the Heater Core Ep. 3
Good News. Bad News.
Bad News: The replacement heater core I got from China has the wrong inlet/outlets.
Good News: It looks like my leaks might have just been the rubber hose couplers & I won't need it.
I've already requested the return via Ebay. I triple checked the part number and looked up as many real, actual pictures of the OE unit as I could find (which wasn't much). I should have known. The listing had the right part number (MB657416), but incorrectly referred to the part as the "rear" heater core. (It's not that one, either. Doesn't even look anything like it.)
It might work, but considering how obviously faulty the couplers look, I'm just going to return it and pressure test the original once I get it out. Fingers crossed it's just those couplers.
Dash Removal
I got the dash out easily enough. Truly, the hardest part about this job is keeping track of all the pieces. If you're prepared to take everything out—and you're not in a rush—I think you'll do alright.
Electrical Lala Land
I should fully remove the weird, never-quite-right alarm system while I'm in there. (There's two more black boxes velcro'd to the ECU case, too.)
Here's a couple interesting things I wasn't expecting. @PajEvo have you ever seen these guys before? Any ideas what they are?
colored cards stacked below the relays
that blue fuse all by itself on the left
it looks like the upper/middle relay location is terminated (should I install a relay?)
Here's some more interesting stuff. Audio Express had my truck an entire weekend to install a deck and rear speakers many, many years ago. This is how they wired things up. Those appear to be plain old 2-wire speaker cables crimped to the harness instead of using the factory harness. (Maybe they couldn't connect to the weird, round, multi-pin connectors back there I presume were for the Infinity system?
Either way, I'll be re-wiring these because damn. Ugly.
Running Out of Room!
I've long said that, once you start taking apart a car, you can fill a 2-car garage. Well, I only have a 1-car garage nowadays. My shelves are filling up, and so is the back of Fezzik! Woof!
Gonna keep after it! Once the core is replaced, it's all fun and games.
new speakers w/ better wiring & sound insulation
new red/white LED reading lights in the back w/ USB power ports
a freshly recovered dashboard w/ new vents & LED lighting
freshly dyed carpet w/ sound insulation
fully functional aux lights up front
clean HVAC ducting
I miss driving my truck!
Journey to the Heater Core Ep. 4
The old heater core is out!
Doesn't look bad, either. There's a little spot of corrosion toward the bottom on one side, but I think the leak was truly the hose couplers. Still need to pressure test this one to be sure. And I'm still more than likely going to install the new one from Luso when it arrives. (I'll pressure test it, too.)
Here's a couple more pictures of the HVAC assemblies under the dash for future reference. Heater core is in the big black box. AC evap core is in the middle white box. Blower motor (and cheap foam "filter") on the right. It's gonna be interesting getting all these ducts sealed back up again, but I have a plan.
I started pressure washing interior trim.
I also pressure washed the dashboard and most of the center console bits. Felt really good until the factory foam bits started melting off like they were made out of dirt, themselves. After this batch, I still have an entire pile of smaller bits to do. (It's all gonna get a fresh coat of dye so it matches.)
Headliner is out too!
I got the headliner out and into the basement, where it's awaiting steam cleaning and a fiber optic install. Looks like it's gonna clean up nicely, too. I'm excited. I'm going to ask Neighbor Steve to help me drop the sunroof this week so I can fully clean it up and get it working like new again. (It currently works, but could use a good cleaning after 25 years.)
I started cleaning the shell.
Would you believe the carpet under the pad in the passenger footwell is STILL soaked with coolant from the leak? I had to wedge the aftermarket alarm box under it for airflow. Wow. So nasty.
Otherwise, I removed the OE amp and CD changer cables since neither was still in the vehicle—and check out the secret cubby under the second row that I didn't know about. Maybe that's where the amp used to be. Maybe it's where I build out my house electrical box.

In any case, I figured out where the Audio Express guy ran those speaker wires. I'm definitely going to clean those up before the carpet goes back in.
Speaking of cleanup…
I spent some quality time polishing the gauge cluster lens. Did such a good job, now I have to open it up and do the inside, too. Just as well. I've got all the LEDs to install too, so it's worth a good cleaning.
I'm starting to get pretty excited. Yes, there's going to be some challenges putting everything back together again, and timing is going to be key to getting everything done this month, but the interior is going to be almost completely new, save seats and door cards. Fortunately, those are easy to remove anytime, so maybe I'll try my hand at upholstery this winter.
(Then again, I need to get the seat heaters installed before winter. Maybe I'll just slip them under the seat covers. Planning on doing quite a bit of pre-wiring work to set the stage for future projects.)
Journey to the Heater Core Ep. 5
The new heater core is IN!
[ Edit: @MrGalantguy I think you might find some of these details interesting. ]
It wasn't an exact fit, but it was close enough I was able to make it work. I wish it didn't have the munched fins it does, but that's my fault for trying to use a small prybar to clearance the HVAC control arm without removing the core. (Tool slipped into the heater box, wouldn't just slip right back out.)
Captain Halfass: Under Pressure
That last picture, above, with all the things connected and the foam tape in place, reminds me I should reconnect the heater hoses in the engine bay, throw the ECU and cluster back in, and pressure test things.
As much work has gone into this project, It would be a HUGE MISTAKE not to make sure things are fully sealed up before I put it all back together. I didn't go through with plans to purchase a bunch of pipe fittings so I could pressurize the core and maybe submerge it in a bucket of water or watch a gauge or something. I mean, the hose couplers on the original core were obviously the cause of the leaks, given how much fluid I was losing.
I've casually pressure tested both cores using the Captain Halfass Method:
Cover the short pipe with your thumb.
Put the other pipe in your mouth.
Try blowing up the core like a balloon.
Both units behaved the same. I huffed, and I puffed, and I looked like an idiot. Considering the leak was big enough that I could hear it spitting out when the coolant level was lower—meaning the system didn't have to be full and fully pressurized to leak—I'm telling myself we're good here.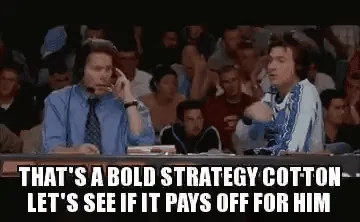 Luso Overland vs. OEM
Side-by-side, you can see how close the replacement core from Luso Overland matches the OE unit that came out. (Which was clearly only leaking from the 25-year-old rubber hoses connecting things.) The end tanks might be a little smaller, and the pipe on the right is crush-bent just a bit too close to the tank to be a drop-in solution.
I ended up using the corner of my new workbench and a paint brush handle as a mandrel to bend the pipe outwards enough to clear the heater box door control. Absent the opposing force of the bench, the pipe wanted to bend at the base where it's welded to the tank. Considering I'd already mashed fins and am installing with a sketchy tube, I was trying to be careful.
Washing Dirt Away, Make New
This just in: SEM Color Coat is the shit. I also have a couple cans of Duplicolor for plastic and vinyl (for the carpet), but this stuff was said to be the best for matching interior colors. I got lucky. Turns out the "15303 Graphite" color is almost indistinguishable from the original gray on my dashboard and interior trim.

It's not a silver bullet, though. You can still see blemishes on the passenger airbag, but I believe these can be fixed by sanding things smooth and touching the wet paint with a texturized pad. Acouple light coats in the sun and things are looking brand new!
Other Mentionables
When Luso reached out to me to let me know they had the cores (but they weren't as drop-in as they would like and he wanted to make sure I was aware), I decided to grab a couple other long-overdue bits he carries—the hood prop retainer clip and driver's door check (so I can lose my wood block).
Beyond that, I started installing Noico behind the dashboard. I'm itching to install it everywhere, but still need to drop the sunroof so I can access the roof panel, and I'm concerned about either damaging any installed Noico while I'm working, if not making a bigger mess to clean up before I'm done.
And the beat goes on…