What would become my all-time favorite adventure platform and life-long obsession started out on a whim. I'd finally "made it," or so my barely-drinking-age ecstatic-about-not-being-homeless freshly promoted to IT Director self thought, and I wanted a comfy ride to match. Long gone were my rock crawling Jeep days—a modest 2wd Ranger (with the "off road" Edge package) had carried me and all of my belongings through some dark times, and done so without complaint in spite of 25k miles a year and zero maintenance, so I'd been shopping the nicer offerings under the Ford umbrella.
#OvalAlliance
Crunching the numbers on paper I narrowed it down to a Lincoln LS or Mark LT (an F150 with Lincoln interior). I was half-way to the dealership to put a down payment on one or the other when I spotted a green oval all on it's own just off the interstate. I'd driven a few Land Rovers in the past and found them to be slow-but-comfy, but didn't pay much attention then and hadn't even considered them in my search. Since technically they were part of the Ford family I figured I better stop and see what they had to offer.
Pulling into the lot, the unusual roof line of the Discovery immediately caught my eye. Sliding into the driver's seat it felt as if it had been custom tailored. Taking off up the onramp it chirped the tires grabbing second…all four of them. Every detail a perfect asymmetrical oddity. It was love at first drive.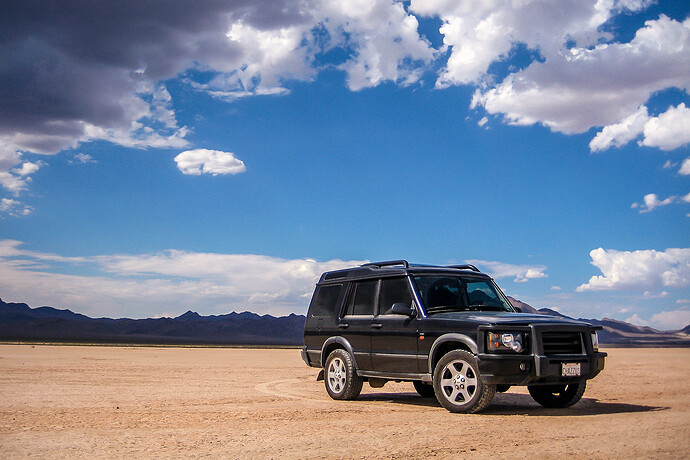 Fortunately, all those oddities carried over into the numbers and added up for me on paper: it was the same price as the Lincolns, could tow and carry more than the LT, and was more comfortable than the LS. It's a quirky beast, especially by 90's and 00's standards: aluminum body, fully boxed frame, 1,500-lbs payload capacity, 7,700-lbs tow rating, optional third-row seating, a petrol V8 making just over 200 horse but nearly 300 torque, and a 375+ mile range…all wrapped up in a lanky mid-size package.
2004 was the last year of the Discovery as we knew it, and indeed the last year of body-on-frame solid-axle Land Rover to grace our shores. Often, when a company is owned by a "competing" brand who's chosen to end a vehicle's manufacturing run, the last model year is just another year at best…and sometimes they just let everything slide. This was not the case for a Ford-owned Land Rover—they wanted to send off the Discovery at it's best.
There is a backstory here with Ford's modernization program forcing early retirements, a sudden drop in an already infamous quality thanks to the unwritten knowledge gap, and Ford's generous efforts to make right the wrongs they'd done, but I'll spare you the details. In a nutshell, each Discovery had been essentially hand built on well-worn machines by blokes that had been around for decades, guys who knew all the little tricks to manually reaching a good fit-and-finish that weren't in the manual. (This is why the door off a 1999 won't fit quite right on a 2000 or 2004…the tooling had worn down more and it wasn't "leaned on" the same way.)
For 2004 Ford brought the OG's back in, and thankfully they took it as a point of pride to "show 'em how it's done."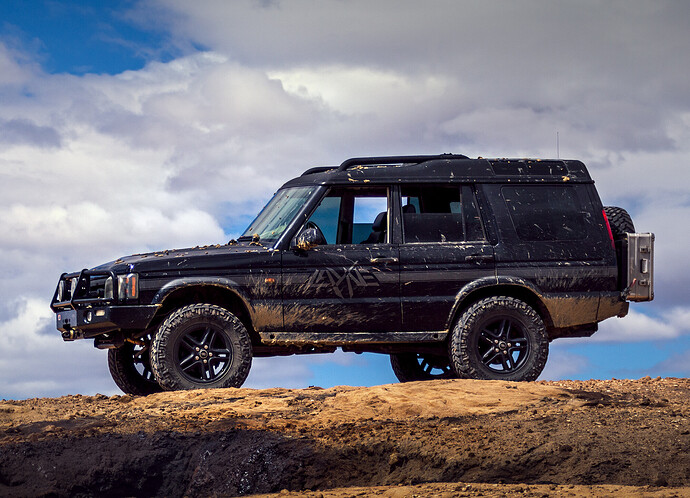 TLDR QuickStats:
2004 Land Rover Discovery II HSE
4.6l Land Rover V8 with stock gearing and…modified exhaust
Tom Woods HD propshafts
3-inch, +400-lbs capacity, combination spring+spacer lift
LT285/65R18 Nitto MT tyres (33x11.50)
ARB Bullbar with 12k TJM Winch
Custom rear bumper and swing-out with storage
HLCfab Sliders
1/4" aluminum fuel tank skid
Front and rear QT diff skids
Dual Odyssey PC2150M batteries (Group 31)
LED rock/camp lights
Pioneer DEH-80PRS digital receiver, mated to the OEM hi-line Harmon Kardon system
CD-changer delete, replaced with…
Yaesu FTM-350R 2-meter/70cm radio
Adequate tool/recovery kit…
Viair on-board air
On-board galley
35-qt. fridge/freezer
11-gallon on-board water system
10# propane storage
Rear seat delete
Knightsbridge Overland seat covers w/storage
Nano-camper conversion with permanent camp loadout
TLDR W.I.P. in no particular order:
Paint the new (original style) wheels
Switch to LT275/70R18 tires, likely General Grabber X3 or A/TX (easier to find and ~$100 less)
Replace sticky caliper and upgrade the brakes
Re-seal the transfer case
Wrap the rear-mount Alubox so it isn't silver
Put the 40% rear seat back in (3-person total capacity)
Sleeper Mk III
Finish the custom dash
Refinish the bumpers and rock sliders
Install the new aux lights, rock lights, fog lights
Add CB and FRS/GMRS radios
Finish the tool/recovery kit
Paint and updated livery
Low profile half rack bolted to OEM mounting locations
Custom awning
Gullwing the rear windows
Replace all of the 16-year-old speakers
New headlights and taillights
Replace all of the exterior plastics…
(And yes, it's higher performance and not completely atrocious gas mileage is a significant factor in abandoning the H6 Forester project, which also would have required premium fuel and only gotten around 20 to the gallon.)