Current Modification List as of 6/2020
Powertrain:
Drivetrain
Suspension / Wheels Tires
Interior/Sound
OEM rubber floor mats (Genuine Toyota accessories)
Fahrenheit roof mounted DVD player
Exterior
"SE" mesh grille
CityKruiser spoiler extension
Ikon Motorsports front lip spoiler (LE/XLE bumper)
Rydonair Shorty antenna
Lighting
Black housing OEM headlights (modified)
Fahren H11/H9/H8 LED Bulbs (low beam)
Fahren 9005 LED bulbs (high beam)
Astar H11 LED Yellow (Fog lights)
AutoSaver Fog light kit (Aftermarket OEM style)
iJDMTOY 8-Pin LED Flasher relay
BRISHINE LED Amber 7440 rear turn signal bulbs
BRISHINE LED Amber 3157 front turn signal bulbs
BRISHINE LED Red 300LM rear driving light bulbs
OXILAM 912/921 LED reverse bulbs
Other
The day has finally happened. Never thought we would ever own one, it was never in our plans. The closest conversation we had about a van is "Wow…they are pretty nice" but that's about it. Its not like weren't truly against minivans…its just never really been a conversation to look into owning one. The past several years though Minivans have become more "attractive" and desirable so the taste wasn't that bad about them. Minivans like the 3rd gen Sienna, Kia Sedona and even the Pacifica actually look good…IMO.
Fast forward to February as some of you know my wife was involved in a hit and run with her Gen 3 Montero. 2 months prior to that my sis in law was involved in a rear end collision with their Toyota Sienna. (This will mean something in a little bit) The damage on the Montero was really just cosmetic and easy to fix but after a week it started to develop a misfire. This was my wifes transportation and with the kids school, her also taking care of our niece and nephew…we needed a running vehicle for her. I diagnosed almost everything on what causing the misfire and I am pretty confident its a stuck or bad exhaust valve on cylinder #3. Anyways this makes the repair even more longer and we were suddenly blessed.
My bro and sis in law already got $$$ from the at fault insurance of the driver that hit their van and they bought another Toyota Sienna and they thought it was all done and over. About the week after our Montero had the misfire issue they got a call from their insurance that when they wanted to pick up their old Sienna. My bro in law was confused and thought it was all taken care of but he was told that the at fault drivers insurance company (Geico) didn't want to keep the van and had his insurance (Progressive) store it till the claim was closed. My bro and sis in law already had their new Sienna and didn't know what to do with their old one and worked out that the situation with our Montero happened around the same time. My bro in law offered to gift their old one to us as gratitude for my wife watching his kids, picking up their kids, feeding their kids, etc while they work their busy work schedule for the past several years.
It wasn't that hard of a decision to say yes to taking their old Sienna, the catch was we weren't sure about how much damage we were looking at. So my bro in law sends me a pic of the damage: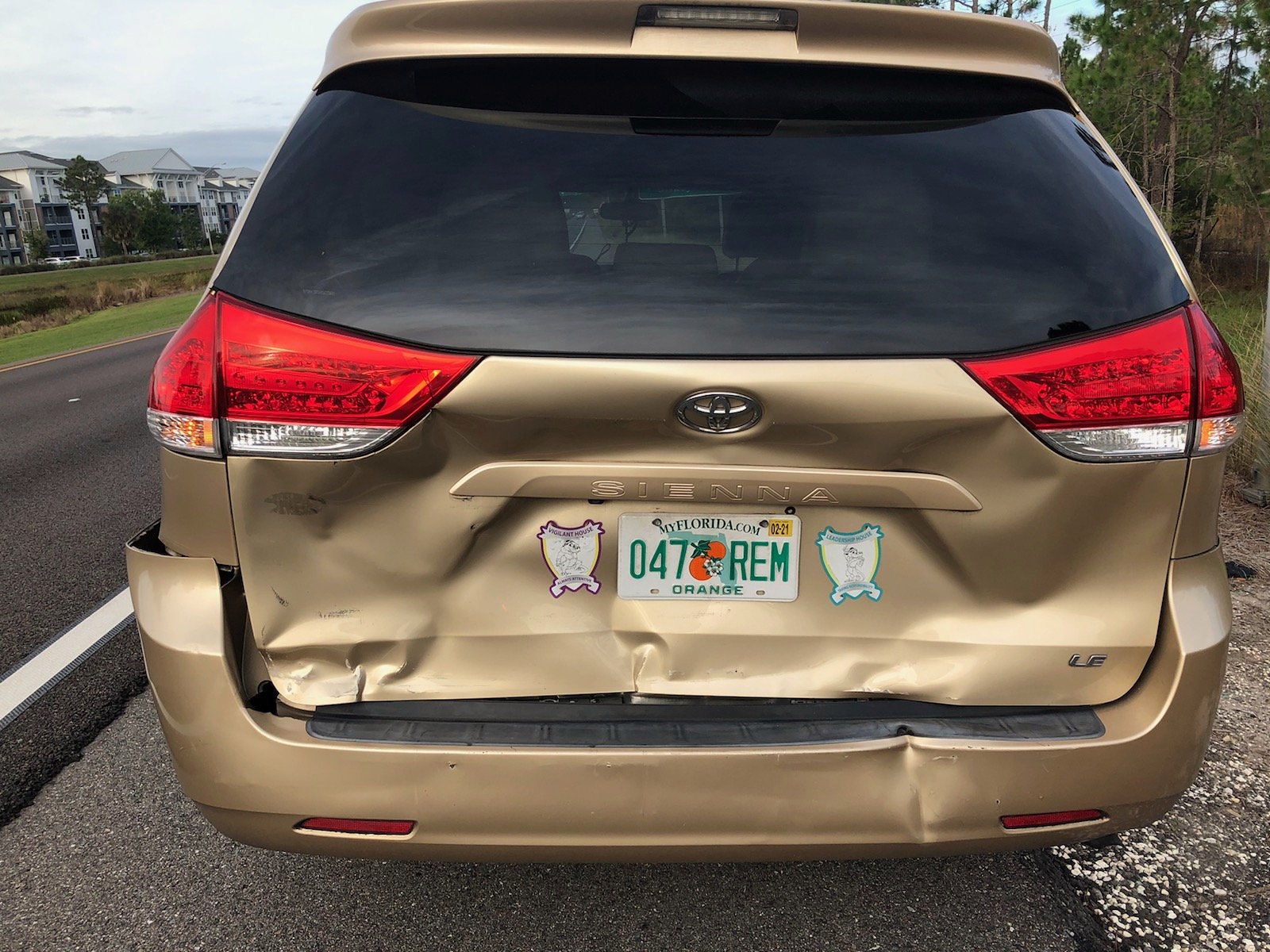 Collision by grimgs, on Flickr
So basically the tailgate door is bashed in pretty good and its a miracle the glass didn't shatter. The bottom rear section where the bottom of the rear tailgate door and bumper was pushed in also and some passenger side rear 1/4 panel damage which isn't that bad. My best friend who owns a shop and paint booth said this is something they can fix no problem…so we took the Sienna.
We have owned the Sienna for about a month, but took weeks to register it and get the tags due to this COVID-19 mess. We have been able to drive it around and I can see why people love these things. Its spacious and it drives very well. I am not a fan of the electric steering…it just feels weird. Maybe its a mental thing or something I still have to get used to. Other than that its a really nice van and this build thread will just be progress of the repairs and being a gearhead…I just can't keep a vehicle "stock".